Course details
1/5 ~ All-you-can-eat roast beef + all-you-can-drink 3 hours 【Girls' Association course】 8 dishes of cooking ♪ 4000 yen → 3500 yen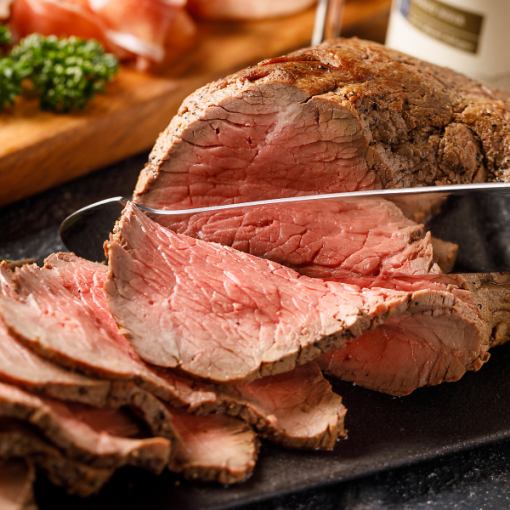 By using a coupon3500 yen
Usually 4000 yen
All-you-can-drink available

All - you - can-drink menu with sparkling wine only
Reservation deadline

Until 15 o'clock on the desired date of visit
Available days for reservation

Tuesday, Sunday, Public Holiday, Holidays
All-you-can-eat! "Unlimited drinks" or "All-you-can-eat all-you-can-eat" special girls' party plan! All-you-can-eat "roast beef" all-you-can-eat course ♪ Enjoy delicious dishes with over 60 different drinks and seasonal taste ♪
Course menu
【1】 Salmon and shrimp terrine
【2】 Homemade grated grilled apples and roasted salad with sesame dressing
【3】 Italian Prosciutto's ham
【4】 Today's Recommendation PIZZA
【5】 Fried potato
【6】 Roast beef ※ Order from eating completely
【7】 Chef's Random Pasta
【8】 Assorted dessert
※ The content of dishes may be changed according to purchase · season
※ Customers who wish to have a seat in a private room please tell us about your reservation, please reserve (Depending on the date, time, number of people, depending on the situation of customers of other reservations, we may be unable to guide you in advance. Please acknowledge it)
"Extreme is kore!"
Encourage the party to go around 【10 Great Benefits】 Service ♪
Boat dessert · newspaper · certificate · bow tower · mirror split
Amazing awesome benefits service is on!
In addition, if you can consult, we will proposal variously!
"All-you-can-drink all-you-can-eat"
There are about 60 kinds of all-you-can-drink all-you-can-eat dishes!
From Dorihee to Alcohol Weak content is very contentful!
"Variegated private room space"
Wood texture full of spaces of harmony is a diverse private room from a private room of 10 people or less
There is no complaints for the store's charter and seats for up to 100 people!
All-you-can-drink menu
·beer
· Kirin's best squeezing
· Shochu / plum wine
· Potato · wheat (water split · oolong split · lock) / soda split · lock
· Whiskey / wine
· High Ball · Ginger High Ball · Cola High Ball · Single / Double (Water Round · Rock) / Robust! Crunchy Jockey Wine (Red · White)
·sour
· Oolong Hi / Green Tea High / Lemon / Grapefruit / Big Fish / Strawberry / Lime / Acerola / Sequercer / Mandarin / Yuzu Honey Blue Apples / Kiwi / Mangoes / Umeboshi / Calpis / Big Finger Calpis / Strawberry Calpis / Mandarin Calpis / Mango Calpis
·Cocktail
· Cassis soda / cassis soda / cassis ginger / cassis oolong / lychee orange / litchi cola lychee oolong / lyche ginger / regga punch / fuzzy group / peach ginger / gin tonic moscow / screwdriver / plum wine orange / plum wine cola / plum wine ginger
· Non-cock cocktail
· Cassis Orange / Cassis Soda / Cassis Ginger / Cassis Oolong / Mango Orange / Mango Soda / Shirley Temple
·Soft drink
· Coke / Oolong Tea / Green Tea / Orange Juice / Ginger Ale / Calpis
· 【Women's Association Limited】
·sparkling wine
2018/12/07 update