Course details
【Forgotten annual party, pleased with various banquets】 Ten great benefits you can choose to celebrate the leading role free of charge in all!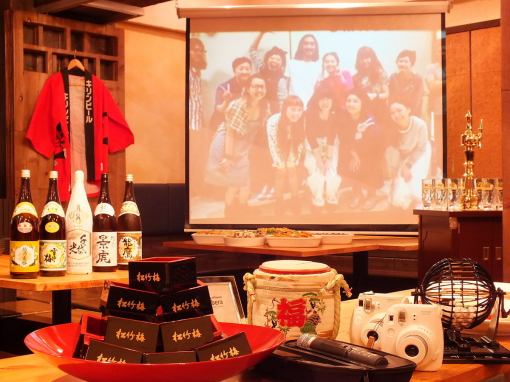 Available days for reservation

Tuesday, Sunday, Public Holiday, Holidays
10 great award coupons you can choose to celebrate the leading role on special occasions such as banquet / year-end party / birthday party / farewell party / welcome party / thanks party / seminar launch / graduation celebration / job celebration / alumni association / It will be surprisingly surprised by all the staff, so it will be a memorable day, no mistake !! This year we will create the invitation letter mobile data in the original style that suits you (For details please contact the staff)
Course menu
Leave it to HANABI for every celebration ♪
【1】 Fantastic! Boat dessert with message
Tappuri with sweets for a big boat for stuffing!
I will accompany you with a message and I will show you what it is!
I can make a commemorative photo with here.【2】 to be memorable! Photo shoot & photo frame
It is unexpectedly photographed that you can not take pictures of everyone you gathered!
Our shop firmly shoots everyone's smile with you!
Place it in the photo frame and present it by yourself!
【3】 Full of hospitality! Create special banners
"●● chan birthday party", "● ● Mr. farewell party" "●●● year-end party"
etc ... You can prepare for your seat just by telling me the message by phone.
【4】 "Red Happy" is rented out to the guest of honor!
Red Happi becomes plentiful feeling of celebration.
Come to the protagonist / casual guest, it is a showroom of the party!
【5】 Great excitement with full mirror split!
Mini-mirror split seen at other stores.Our shop is different!
We will mirror the big authentic barrel!
【6】 unique to our shop! Masu Tower
Champagne Tower in Nuku Tower Tower! Drinking from the top of the liquor
Not only Japanese sake but also beer, shochu, wine etc are OK!
【7】 Toastful event!
To the leading role, drink alcohol with a big big cup.
Everyone else has a liquor, well, it is the beginning of tonight's feast!
【8】 Mood is an entertainer!? Make special signature newspaper
I will make a special newspaper newspaper how a lot!
Surprisingly surprised on one side! It is a surprise that is absolutely remembered!
【9】 Calling impression! Create and present a certificate of commendation
Thanks for your hard work and thanks for your rainy day.
We will make a certificate of commendation!
【10】 Feeling is a ballpark! Beer server rental
It is a beer server of type of shoulder found in a baseball field
If it turns around, it will be popular with a tremendous presence!
* Toasting events of (5) (6) (10) are limited to only one.
※ (1), (10) are reserved 3 days in advance
※ (8) (9) Preparation of texts, arrangements etc are necessary, so reservation is required one week in advance
[STAFF all together] An important lover, family, friends, colleagues ... I want to direct the best day together with my daily gratitude! It is a once in a lifetime opportunity.We want to cooperate fully in order to convey your feelings to 100% !!! Please feel free to contact us.
* Boat desserts consist of more than 4000 yen course.
2018/12/07 update